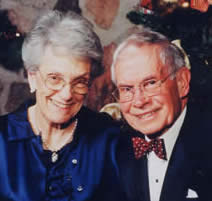 RUTH AND HARTLEY BARKER SUPPORT
PENINSULA PLAYERS CAPITAL CAMPAIGN
July 26, 2005. Fish Creek, Wisconsin. Ruth and Hartley Barker, summer residents of Door County, Wisconsin, have shown support for Peninsula Players' building and renovation plans with a significant gift to the "Protecting the Past, Insuring the Future" capital campaign. Funds given to the campaign will be used to construct a new scene shop and rebuild the theater's stagehouse and audience pavilion this winter.
Through the Ruth and Hartley Barker Advised Fund at the Community Foundation of South Wood County, which was established in 2001, the Barkers are avid supporters of the Peninsula Players.
"Peninsula Players is an unbelievable credit to the Door County community and to the state of Wisconsin. We want to keep it that way," Hartley Barker said. "With the new buildings, the theater will be able to continue attracting great actors and bringing audiences to Door County."
The Barkers' decision to contribute to the theater's campaign was encouraged by the organization's financial stability. The theater is one of only a few in the country able to support operating costs with earned revenue. Annual contributions pay for site improvements and maintenance, the educational internship program, and help offset production costs.
"Peninsula Players is a viable organization that can sustain operations with ticket revenue. That's important to us. It shows sound financial management. But it needs our help to do major improvements. It is looking for charitable organizations to complete the building project," Hartley said.
Both Hartley and Ruth were born in the Midwest and raised in Wisconsin Rapids, Wisconsin. While attending the University of Wisconsin, Madison, their relationship developed. In 1950, the couple was married upon Hartley's return to the United States after serving three years abroad during World War II.
Today, the Barkers divide their time between Phoenix, Arizona and Ephraim, Wisconsin. The couple travels extensively, always making it a priority to spend time with their four daughters and 15 grandchildren, who are scattered throughout the country.
The Barkers are heavily involved in nonprofit organizations, serving on several boards and making a number of generous contributions in Arizona and Wisconsin. In Wisconsin, the Barkers are both active with the State of Wisconsin Historical Society Foundation. Hartley also serves on the boards of the YMCA of Door County Foundation and the Ephraim Historical Society Foundation. Financially, the Barkers' generosity has helped Peninsula Players and a number of other organizations including Door County Memorial Hospital and the Door County Land Trust.
Their parents taught both Ruth and Hartley the importance of giving.
"We've been very fortunate economically and we feel it's important to give," the Barkers said. "Our parents gave to various charities and were also involved with their communities."
"You can't take it with you, so you should do something with it," concluded Ruth.
The generosity of individuals such as the Barkers has allowed Peninsula Players to raise almost half of its $6.2 million campaign goal to date. Fund raising will continue throughout the summer. Peninsula Players is a not-for-profit organization and all donations made to the organization are fully tax-deductible.
Construction of the stagehouse and audience pavilion is scheduled to begin this fall and will be completed in time for Peninsula Players to open its 71st season in the new facility next June. The new canteen and lobby area is already complete and in use nightly at the theater.
The Peninsula Players Theatre is America's oldest professional resident summer theater, and traditionally presents a season of five productions each year from late-June to mid-October. The 2005 season has been shortened to accommodate construction plans, and includes "Red Herring" by Michael Hollinger, "Tom, Dick, and Harry" by Ray and Michael Cooney, and "Escanaba in Da Moonlight" by Jeff Daniels. Peninsula Players is located three miles from Fish Creek and one-half mile west of State 42.