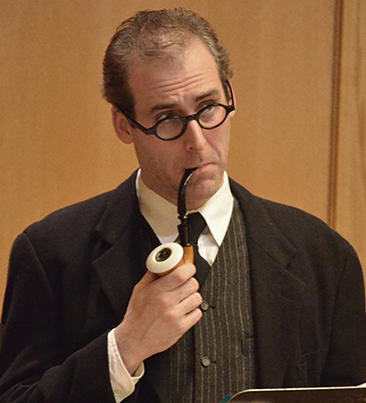 February 5, 2013. Fish Creek, WI. – Peninsula Players Theatre presented a play reading of "The Problem of Thor Bridge" and "A Scandal in Bohemia," accompanied by a reading from "The Beekeepers Apprentice" at Björklunden Monday Feb 4 to a full house of more than 125. The readings were produced with support and in coordination with Door County Reads and its exploration of "The Beekeeper's Apprentice."
The radio dramas were originally aired in 1945 starring the well-loved film actors Basil Rathbone and Nigel Bruce as the famous duo. Peninsula Players Artistic Director Greg Vinkler and actors Kevin McKillip, Bill Bannon, Joe Foust, Molly Glynn and Alan Kopischke presented the radio dramas using folio effects and few props.
The play readings were directed by Foust and adapted by Foust, Denis Green and Anthony Boucher. Peninsula Players has two more readings are in the planning stages.
Door County Reads is in its third year, having grown out of the Library/Players partnership to bring The Big Read to Door County for three years.  The Beekeeper's Apprentice" by Laurie R. King, features Sherlock Holmes as a character and is this year's reading selection.  A full listing of events can be found at www.doorcountyreads.org.