Yee-haw! The cast of "Saloon" is kicking up their heels and tossing hats in the air with the excitement of opening the cowboy tale by Terry Twyman. When Greg Vinkler told me in April we would do a western I pulled out my cowboy hat.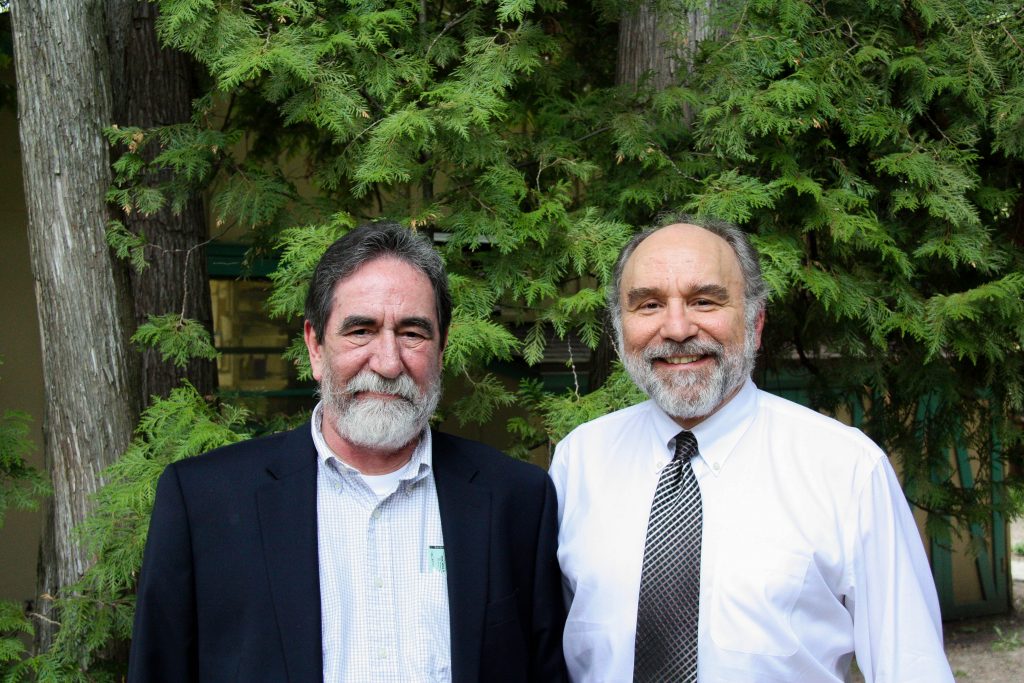 My thoughts immediately went to my parents who loved to watch Audie Murphy, John Wayne, "The Big Valley" and "Bonanza." These tales explored keeping a code of honor; where men stood for what they believed, and they did the right thing, even if it meant self-sacrifice for the greater good.
When I got to college I took a class on film genres and explored the Western mystique of "High Noon," "Shane," "The Searchers," "Treasure of the Sierra Madre" and other films by John Huston.
Opening night Greg shared with the audience how much he loved this play when he was first cast in it at Arrow Rock Lyceum Theatre in Missouri 34 years ago. It was part of a new play festival and Greg and Peninsula Players is excited to revive this wonderful play.
Since we've opened "Saloon" rave reviews have poured in from Eddy Allen at WDOR Radio who gave it "three thumbs-up" to Warren Gerds, critic for WFRV TV, who said, "'Saloon' also takes the audience to a time, place and circumstance it otherwise could not experience. And there's something about the feel of worn leather that's appealing."
Playwright Terry Twyman resides in Memphis and he traveled to the peninsula last week for opening night. After the show, near the bonfire, the cast and company members visited with Terry.
Terry went to art school in Memphis where he earned a BFA degree in painting. It was in art school that he saw his first full-length play, Tennessee Williams' "The Glass Menagerie" and a lifelong love affair with the stage began.
During his second year in graduate school he was offered a position as a start-up faculty member at Florida International University in Miami. During the following five years he wrote three plays and a short film. One of the plays, "Tattoo," won the Florida American College Theatre Festival and went on to place second in the national competition.
His first draft of "Saloon" was written while he was at FIU. After five years of teaching, directing and writing he returned to Memphis and now can be found restoring art and antiques.
While Terry was with us I had a chance to ask him a few questions about what inspired him to write a Western for the stage.
Q. What was your first job/experience in theater?
A. My first job was as an actor. I played Dudley (a young man in love) in William Saroyan's "The Time of Your Life."
Q. Did you play "cowboys" as a young lad?
A. Yes.
Q. Did you set out to write about cowboys?
A. Yes. There are scant few westerns written for the stage.
Q. What did you know about the history of the Old West?
A. I knew more about the history of the western in cinema than about the west of legend and lore.
Q. The characters in "Saloon" aren't gunslingers or lawmen. How would you describe them?
A. Downtrodden people in search of success.
Q. How and when where you inspired to write "Saloon?"
A. My father gave me a book about the evolution of the cowboy during the latter half of the 19th century. The plot of "Saloon" rose from the pages as I read it.
Q. How does the setting in untamed land influence your story?
A. It strips the buffers from their existence.
Q. How does "Saloon" relate to present day?
A. It reminds us that the things that shape our lives are often the things over which we have the least control.
Q. Why do you think theater is important?
A. Because a good play done well is a thing of beauty. And the sublime effort it takes for that to be accomplished represents ourselves at our best.
Q. How does the art of play-writing compare to the art of art restorer?
A. Creating a character on stage has little to do with re-constructing the past on canvas. One requires creativity. The other requires foreknowledge and patience.
Q. Who are some of your favorite writers?
A. Ernest Hemmingway, Arthur Miller, Kurt Vonnegutt, James L. Brooks, Robert Bolt and Noah Haidle.
Q. Later in the season Peninsula Players will produce "Sunday in the Park with George," based on the painting by George Seurat. Who are some of your favorite artists?
A. Altoon Sultan, Ellsworth Kelly, Larry Rivers, Milica Reinhart, Agnieszka Kukawska, Cristina Popovici, Corrine West, and Jamie Dalglish to name but a few.
Q. Why is art important?
A. Art reminds us that tomorrow can be better than yesterday or today.
Q. Which artists influence you and why? John Huston, film director. Robert Rauschenberg, painter. Ernest Hemmingway, writer. Huston because he was a masterful storyteller. Rauschenberg because he railed against the orthodoxy of "modern art." And Hemmingway because a single word can carry more weight than ten.
Q. What art is hanging above your sofa?
A. A large painting I did while in art school that was chosen by the State Department to tour the world as part of our Art In The Embassies program.
Q. What is your least favorite question about your work?
A. "What does it mean?"
Saddle-up and mosey on down Peninsula Players Road to the Luna Bar and Beer Garden before settling in for a night featuring raucous cowboys who are itching to get to the end of the trail. To learn more about our season line-up visit our new website at www.peninsulaplayers.com or call the Box Office at 920-868-3287. I look forward to seeing you by the bay, where the sun sets, the curtain rises and the stars shine.
Audra Baakari Boyle is the Peninsula Players Business Manager, celebrating her 19th season by the bay.