As we take this brief intermission during the summer of 2020, we have been busy creating unique videos, puzzles, recipes and other tidbits to help pass the time.  We look forward to welcoming you all back to the "theatre-in-a-garden"  when it is safe to do so and hope these diversions help keep you connected to our home down by the bay.  
When theaters were shuttered in mid-March due to the COVID-19 crisis, it had a tremendous impact on artists and musicians. Company member Cory Goodrich (The Bridges of Madison County) wanted to remain connected to fellow performers, so she decided some innovation was required so they could once more raise their voices together, including Peninsula Players alum Patrick New.
For many decades, patrons have found a spot along the theater's shoreline to give Mother Nature a standing ovation before settling into the audience pavilion for a night with our artistic company. 
Former Master Electrician and Luna Bar Manager, Michael Trudeau, spent seven seasons with the theater and captured the setting sun's beauty throughout his time with us. We hope you enjoy the picturesque and serene sunset compilation created by Michael.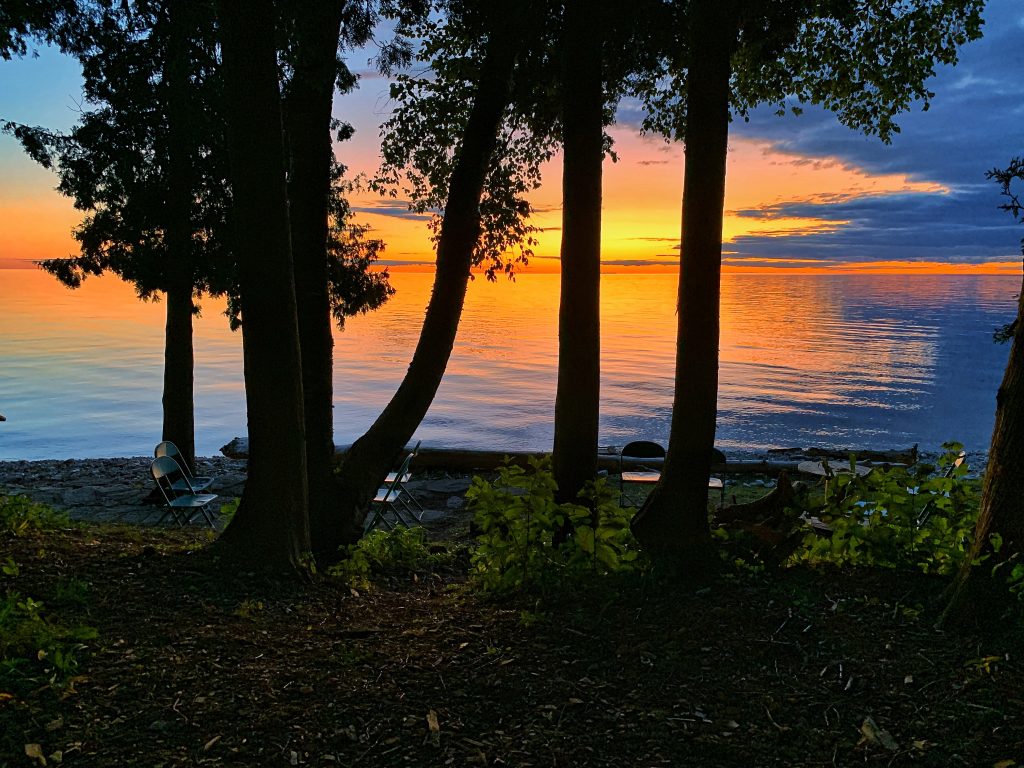 This serene shoreline image on Peninsula Players' grounds inspired Costume Shop Manager Kyle Pingel to design Shoreline Sunset merchandise for everyone to enjoy. When Peninsula Players canceled its summer performances due to the current health crisis, Kyle created Camping Clothing Co. He specifically created the Shoreline Sunset design to assist the theater during its brief intermission.
A majority of the proceeds from the sales will be donated to Peninsula Players Theatre to help ensure its future.  We are forever thankful for Kyle's thoughtfulness and thank you all in advance for your continued support.  Click here to order your Shoreline Sunset merchandise today!
A favorite pastime of company members is a chat over a morning cup of coffee before they start their busy day. It is a time to pause, reflect, visit and to get to know one another.  While Cory Goodrich performed in The Bridges of Madison County, Matt Holzfeind and Harter Clingman rehearsed for Lord Arthur Savile's Crime. This multi-talented bunch learned of their shared passion for music and often sang with others on their deck, by the bonfire or along the shoreline.
Company member Matt Holzfeind  tells us the story of his "Christmas in July" taskand the creation of his original song "Three Squares a Day."  Click here to enjoy someof the company's favorite recipes from our wonderful cooks!
Sound designer Joe "Tech" Huppert and his wife, actor Maggie Carney, as they perform and share the inspiration behind the creation of the Peninsula Players theme.  Click here for the lyrics to Joe's creation.
"Love and Be Loved" is the official motto of our beloved company members, which patrons see painted on the back of our stage house. In 2017, actor Cory Goodrich thought we needed a theme song. One of our summer highlights was when Cory sang this song around the bonfire with everyone at a Saturday After Glow, with the fantastic Lynn Gudmundsen.
To celebrate National Poetry Month, Write On, Door County asked leaders in our community to share a video of them reading a favorite poem. These videos were shared on Write On's Facebook page every day throughout April.  Artistic Director Greg Vinkler shared one of his favorite poems "Next" by Ogden Nash.