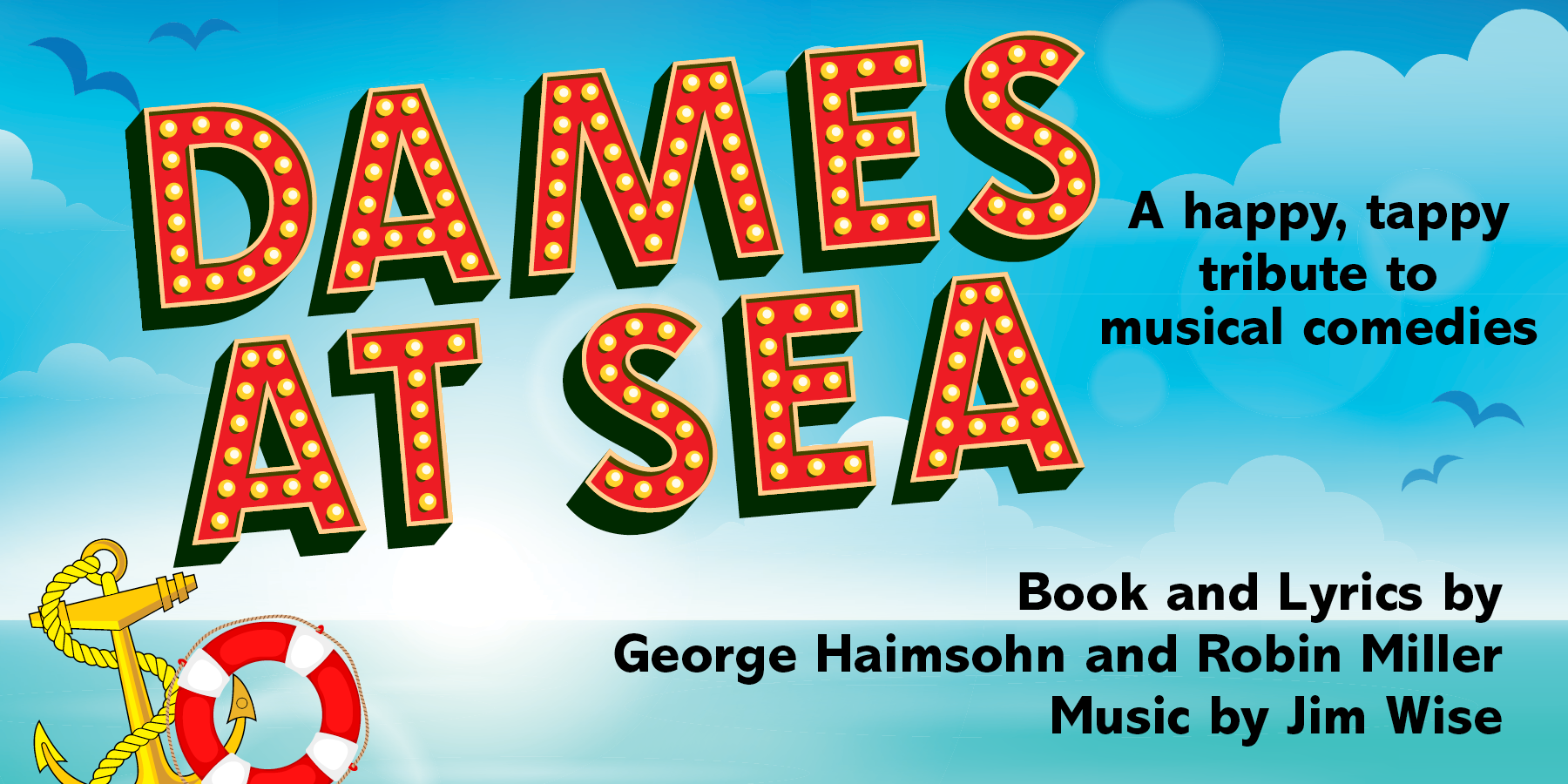 July 26 - August 13, 2023
Directed & Choreographed by Linda Fortunato

Sponsored by Alibi Marina & Harbor Guest House with support from the Cordon Family Foundation
Dames at Sea is a tap-happy gem of a show that celebrates the golden era of movie musicals with a heart as big as the ocean!

Ruby steps off a bus in Manhattan with nothing but tap shoes in her suitcase and a dream in her heart.  She is soon cast in the chorus of a Broadway show starring a temperamental diva.  Hours before the opening night curtain, the cast learns their theater is being demolished, so with the help of some adoring sailors, it is "all hands on deck" to find a stage to put on the show.   Will the show go on?  Will Ruby become a star?  Will she meet the sailor of her dreams?   Featuring show-stopping tap dancing, love at first sight, joyful music and a boatload of laughs, this glittering musical showcases six actors and everything you need to sweep your troubles away.
"…(a) perky homage to 1930s movie musicals…a sweet candy morsel."  The Hollywood Reporter
"Prepare to be thoroughly charmed." – USA Today
Outer Critics Circle Award Best Off-Broadway Musical, 1968 
Drama Desk Awards for Outstanding Performance (Bernadette Peters), Outstanding Lyrics and Outstanding Director of a Musical – 1968
Notes: – Dames at Sea is a delightful tongue-in-cheek musical comedy laced with 1930s slang, frothy wisecracks and a bubbly score for all ages.  This musical had an off-Broadway run starting in 1968 of 575 performances and launched Bernadette Peters as a lead actor-singer.  Dames at Sea is an homage to the dance-filled musicals of the 1930s.  It made its Broadway debut in 2015 and was nominated for Outstanding Revival of a Musical by the Outer Critics Circle.  Patrons with specific content concerns should contact the Box Office with direct questions.
Individual tickets available beginning March 1, 2023.
Ticket Prices
$45, $48 & $51. Students 18 and under receive a 50% discount.
Show Times
8:00 p.m. Tuesday – Saturday and 7:30 p.m. on Sunday, except for August 13th at 2:00 p.m.
Run Time
2 hours and 15 minutes, including one 15-minute intermission.
Cast
Ben Dow, Jackson Evans, Kelly Felthous, Heidi Kettenring, Maya McQueen, Joey Stone
Designers
Scenic Design – Jack Magaw, Costume Design – Kärin Simonson Kopischke, Lighting Design – Guy Rhodes, Sound Design – Joe Palermo, Properties – Rowan Doe, Music Director – David Corlew, Scenic Artist – Kaitlin Younger, Stage Manager – Kimberly Ann McCann, Asst. Stage Manager – Kaitlin Kitzmiller, Production Manager – Paul Cook

Wheelchairs/Walkers/Scooters
Accessible seating (wheelchairs and walkers etc.) with no stairs is available in Row K. Every row, other than Row K has a step(s). Please phone the Box Office for the availability of accessible seating in Row K.

Assisted Listening System
Assisted Listening Devices (ALD) amplify and clarify sound by cutting down ambient noise. Peninsula Players is equipped with a Hearing Loop in rows A to S and an FM-based ALD system in the balcony rows AA and BB. Patrons who require an ALD may visit the Canteen before the show. Reservations are not necessary. These devices are offered free of charge on a first-come-first-served basis. A driver's license or ID with printed address is required as a security deposit.