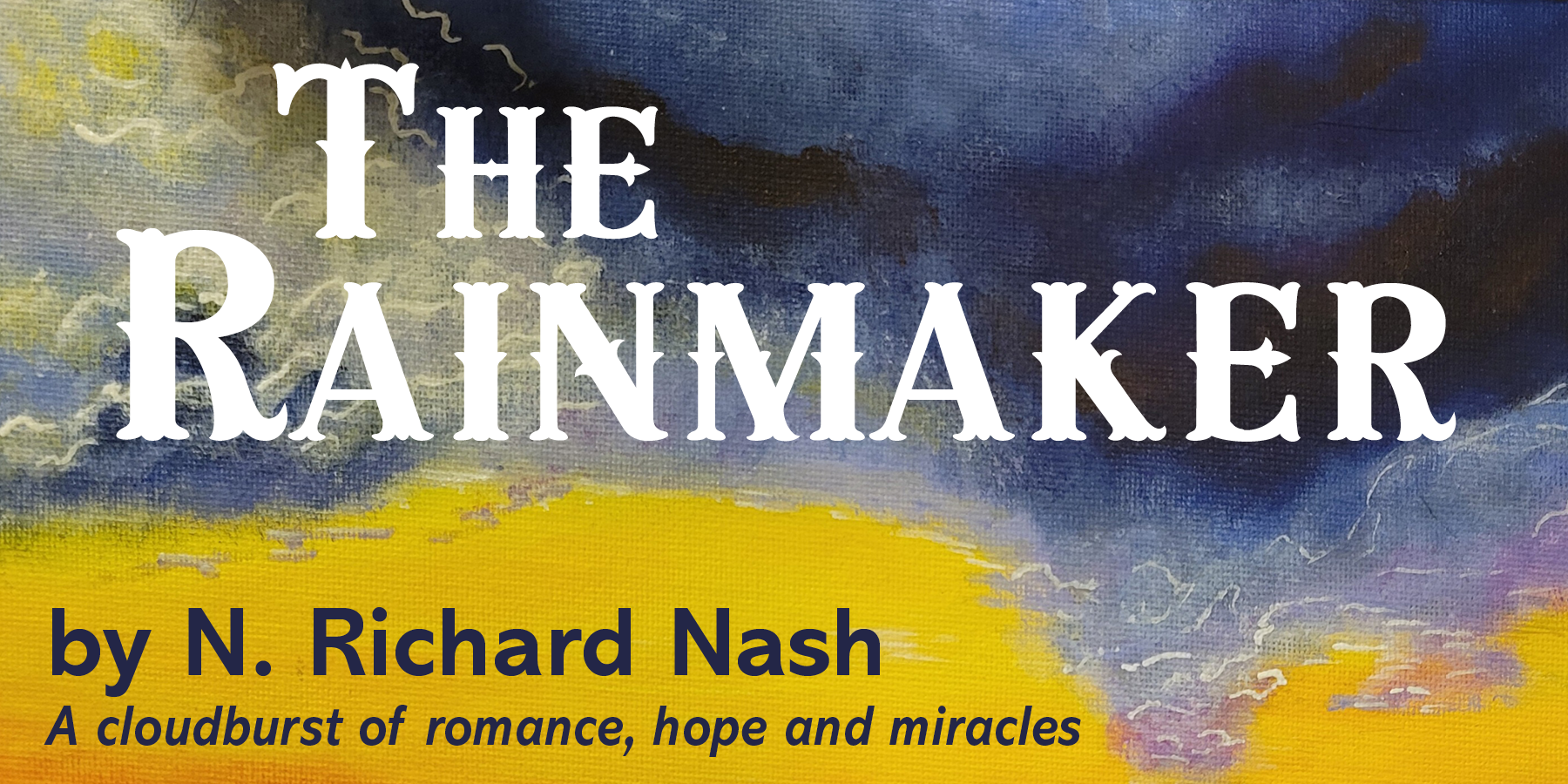 June 14 – July 3, 2022
By N. Richard Nash
A cloudburst of romance, hope and miracles.
Sponsored by Tony & Judy Licata
The name you choose for yourself is more your own than the name you were born with. And if I was you I'd choose another name than Lizzie. – Starbuck
A stirring and humor-filled American classic that inspires one to believe in the unbelievable.
During the hard years of a dust bowl drought, the Curry family's cattle ranch is on the verge of failure. Hardworking and plain, Lizzie is the only woman in a family of men who are trying to find her a husband. She is about to give up on love and commit herself to care for her wise rancher father and two polar-opposite brothers. When charismatic traveler Starbuck breezes onto their doorstep, he promises that for $100 he can summon rain to the barren land. The smooth-talking Starbuck turns his magic onto the clouds, Lizzie and the entire Curry family.
"[The Rainmaker's] underlying theme – the need for faith in oneself and others – is universal." – Chicago Reader
"After nearly half a century, The Rainmaker still makes a…case for miracles." – Los Angeles Times
Ticket Prices
$41, $44 & $47. Students 18 and under receive a 50% discount.
Show Times
8:00 p.m. Tuesday – Saturday and 7:30 p.m. on Sunday except July 3rd at 2:00 p.m.
Run Time
2 hours 15 minutes.

Wheelchairs/Walkers/Scooters
Accessible seating (wheelchairs and walkers etc.) with no stairs is available in Row K. Every row, other than Row K has a step(s). Please phone the Box Office for the availability of accessible seating in Row K.

Assisted Listening System
Assisted Listening Devices (ALD) amplify and clarify sound by cutting down ambient noise. Peninsula Players is equipped with a Hearing Loop in rows A to S and an FM-based ALD system in the balcony rows AA and BB. Patrons who require an ALD may visit the Canteen before the show. Reservations are not necessary. These devices are offered free of charge on a first-come-first-served basis. A driver's license or ID with printed address is required as a security deposit.