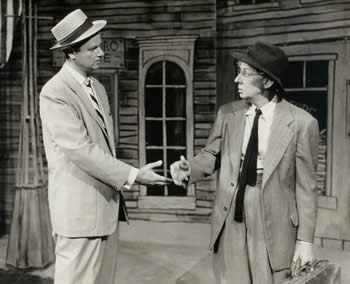 HARVEY KORMAN AND BOB THOMPSON
SERVE AS HONORARY CHAIRMEN OF CAPITAL CAMPAIGN
June 26, 2005. Fish Creek, Wisconsin. Harvey Korman and Bob Thompson have agreed to serve as honorary chairmen of Peninsula Players' capital campaign, "Protecting the Past, Insuring the Future." Korman, a fixture of television's Carol Burnett Show, worked as an actor and director at Peninsula Players during three of its early seasons. Thompson, a local favorite since 1938, has appeared on the Players' stage hundreds of times in the past 67 years.
"Peninsula Players is unlike most theaters," Korman said. "The natural beauty and peaceful environment encourage study and contemplation, which allows performers to focus on honing their skills and reaching their full potential as actors and human beings. It is imperative that this be preserved for future generations of artists and audiences to enjoy."
Korman was born and raised in Chicago, Illinois where he first started performing as a character actor. He graduated from the Goodman School of Drama, and then moved to New York to work winters while returning to the Midwest to work in summer stock theaters.
In 1950, Korman first appeared at Peninsula Players in productions of "Harvey," "Born Yesterday," "The Torch Bearers," and "Present Laughter." In 1957, Korman returned to the Players stage with performances in "Teahouse of the August Moon," "Inherit the Wind," "Bell, Book, and Candle," "Janus," and "Roomful of Roses." The following year, Korman appeared in the hit "See How They Run" and made his directing debut at the Players with "Separate Tables." During his time at the Theatre in a Garden he worked with and befriended many Players' favorites including William Munchow, Leo Lucker, Maggy Magerstadt, Jeanne Bolan, and Players' founder, Caroline Fisher.
As his career grew, Korman landed a part on The Danny Kaye Show which in turn led to his being cast on The Carol Burnett Show. Korman spent 10 years with Carol Burnett, winning a Golden Globe award, and establishing himself as an acknowledged master of sketch comedy. Korman has gone on to do more sketch comedy on The Tim Conway Show, appeared in various movies including Mel Brooks' Blazing Saddles and History of the World, and won three emmy awards.
Korman now lives in Los Angeles and works primarily in the film industry, but he remembers his time in Door County fondly and is pleased to be helping Peninsula Players as it moves forward with plans to renovate.
"The summers I spent at Peninsula Players provided me with acting opportunities I would not have had otherwise as a young artist living in New York. The friendships and memories I made were invaluable," said Korman. "Peninsula Players is such a unique theatre in a beautiful setting and it's remarkable that it hasn't changed at all over the years. While the buildings are now desperately in need of replacement, I have no doubt the spirit of the Players will always remain the same."
Bob Thompson, who has been with the Players as an actor or director since 1938, is equally excited to be involved in this momentous time in Peninsula Players' history.
"Few places are as enchanting as the theater of the Peninsula Players," Thompson said. "For the past 67 summers, I have always returned to the Players like some homing pigeon to its roost. The Players has been one of the greatest joys of my life! I'm thrilled to be able to help preserve it for others to enjoy as well."
Thompson first worked at Peninsula Players in 1938 and 1939 while still a student at the Goodman Theatre School. In the Spring of 1953, after serving in the Air Force during World War II and landing a job as a full-time professor of theatre at Rosary College in River Forest, Illinois, Thompson returned to the Players at Caroline Fisher's request. Later, Thompson performed on Broadway and then returned to Peninsula Players in 1976. Since then, he has appeared on the Players' stage nearly every year and has created hundreds of roles there.
"I have had the opportunity to play a wide variety of roles at the Players," Thompson said. "Among them, my favorites include leads in 'On Golden Pond,' 'Da,' 'Angel Street,' 'Funny Money,' 'You Can't Take it With You,' 'Crazy for You,' 'It Runs in the Family,' and 'The Cherry Orchard.' "
In addition to making a name for himself in Door County, Bob Thompson is a three-time winner of Chicago's coveted Joseph Jefferson Award for Acting. He has performed in New York, Chicago, San Diego, Houston and elsewhere throughout the United States pursuing a long and vibrant acting and directing career.
Peninsula Players' $6.2 million "Protecting the Past, Insuring the Future" campaign will replace the stagehouse, audience pavilion, scene shop and canteen. Both Korman and Thompson are confident their involvement in the Players' campaign will give them the opportunity to witness a new era in the life of Peninsula Players Theatre.