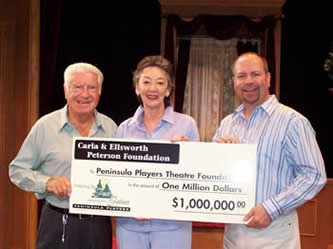 PENINSULA PLAYERS THEATRE MEETS $2 MILLION CHALLENGE AND RECEIVES GIFT FROM ELLSWORTH AND CARLA PETERSON FOUNDATION
July 3, 2005. Fish Creek, Wisconsin. A $1 million challenge gift from the Ellsworth and Carla Peterson Foundation was presented to Peninsula Players Theatre on July 3. The theater raised $2 million from local Door County sources in order to receive this challenge gift, bringing the fundraising total to $3 million.
"We are thrilled that support from the Door County community has poured in and that we have been able to meet the Peterson challenge so quickly," said Willard Hartman, president of the Peninsula Players Theatre Foundation. "With receipt of the Peterson's gift, we have raised $3 million toward our efforts. We are nearly halfway to our $6.2 million goal."
Funds from the campaign will replace the Players' stagehouse, audience pavilion, scene shop and canteen. The new stagehouse will incorporate a flexible proscenium and a 55-foot high flytower to enable the Players to enhance its artistic productions. The new audience pavilion will remain open-sided and retain the intimacy of the current theater while improving audience seating comfort and sightlines. The theater complex will be rebuilt in its current location ensuring that the shoreline, picnic areas, forest trails and gardens are preserved. Construction of the stagehouse and audience pavilion is scheduled to begin this fall and will be completed in time for Peninsula Players to open its 71st season in the new facility next June. The new canteen and lobby area is already complete and in use nightly at the theater.
"For 70 years, the Peninsula Players has been a keystone in Door County," said Todd Schmidt, Executive Producer. "The success of our capital campaign is imperative to ensure that this unique and beautiful spot can be enjoyed by theatergoers for generations to come."
Carla and Ellsworth Peterson continue their enthusiastic support of the theater with their $1 million leadership gift to the campaign. Carla, who was a member of the Peninsula Players Board of Directors for 11 years, also served as an integral member long-range planning team.
"Peninsula Players is not just a unique entity in Door County," Carla said. "It is unlike any other summer theater in the United States. We feel it is crucial to protect the future of this exceptional theater and are delighted to see that others in the Door County community feel the same way."
Since receiving the challenge gift from the Petersons, Peninsula Players has seen strong support from a number of donors in the Door County area. Local businesses, foundations, and individuals have all stepped forward to help the theater meet its challenge goal.
"Carla and Ellsworth Peterson have always been leaders in the community, especially in their support of non-profit organizations." Schmidt said. "We are extremely grateful for their help in getting this campaign started and continue to be grateful to everyone in the Door County community who helped us meet this challenge and will help us achieve our total campaign goal. The support has been tremendous."
With nearly half of its goal in place, Peninsula Players will continue fundraising throughout the summer in order to raise the remaining $3.2 million needed to complete the building plans.
The Peninsula Players Theatre is America's oldest professional resident summer theater, and traditionally presents a season of five productions each year from late-June to mid-October. The 2005 season has been shortened to accommodate construction plans, and includes "The Uneasy Chair" by Evan Smith, "Red Herring" by Michael Hollinger, "Tom, Dick, and Harry" by Ray and Michael Cooney, and "Escanaba in Da Moonlight" by Jeff Daniels. Peninsula Players is located three miles from Fish Creek and one-half mile west of State 42.